I OFFER VERY CHEAP POINT COMMISSIONS, JUST CHECK ON THE BOX
'Commissions' TO SEE MY PRICES!!!!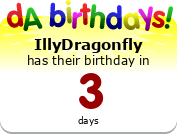 Enjoy yourself with my gallery: photographs and drawings and if you like District9 or Erik (the Phantom of the Opera) or Predator you can read my comics!


And if you like my works, comment and fav!


Pss... and I opened a donation pool...